8 Top Tips for Planning a Large Student Group Trip for 200+
Traveling with a large student group of 200+ can be daunting. There are so many moving parts and so many details to deal with. So where do you start? Right here! We'll walk you through the 8 top tips for planning your marching band trip, class trip, show choir trip, or any other large group trip for 200+ travelers!
1. Use online registration and payments.
When you're working with a large group, the goal is to make planning as simple and efficient as possible. A great way to streamline is to use an online platform for registration, payments, trip protection, documents, and reminders.
Aggregating information in an online format is easy for travelers and trip planners and everything is in one convenient place. No more missing permission slips, medical forms, or rooming lists!
How KA Makes Planning A Student Trip SO Easy!
2. Think through your transportation plan.
The next big hurdle is figuring out how to get 200+ travelers from here to there. Here are a few key questions as you decide which method of transportation is best…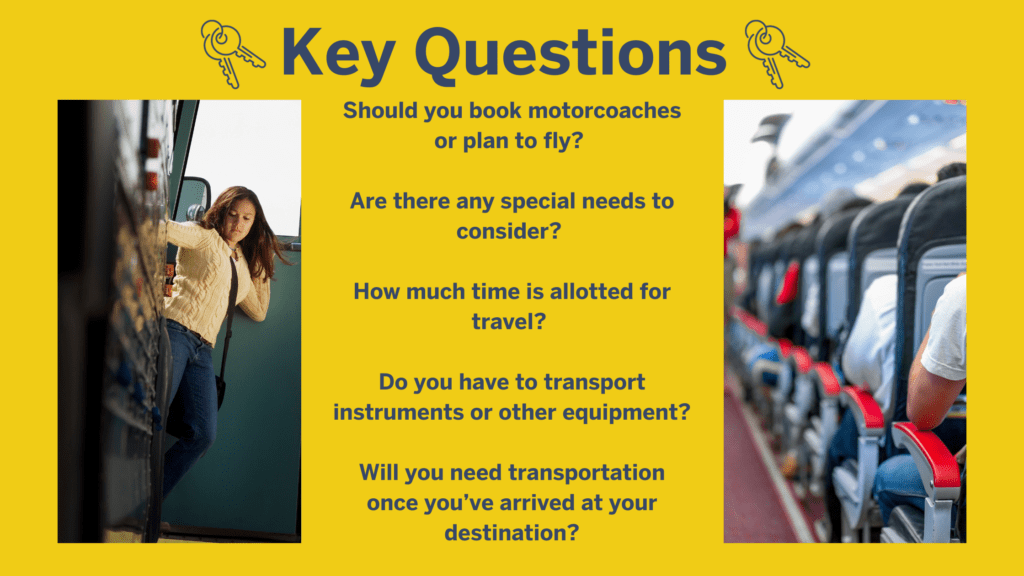 As you make transportation decisions, remember that motorcoaches are in short supply. Book EARLY (we recommend at least a full year in advance.)
In addition, air travel with a large group can be tricky. Flights and rates change constantly, and you may not be able to keep the group together on one flight. Consider using a group booking site like Fly My Group for convenience and the best rates.
3. Be sure your hotel and dining partners can handle large groups.
When you travel with a large student group, be sure your hotel and dining partners can handle them.
Groups of 200+ can be especially tricky to house. Check into hotels just outside a metropolitan area for better rates and availability and try to keep your group on the same floor.
If you must split the group between floors, consider adding a security guard through the night as an added safety precaution.
Pro Tip: Book hotels with interior corridors only for student groups!
Look for restaurants with group menus and pricing and large spaces reserved for groups. Big chains like Hard Rock Cafe, Dave & Buster's, or Golden Corral® are great options.
Just remember to book well in advance of your travel dates since spaces fill quickly!
4. Consider ticket packages and attractions.
Another big consideration for your big group is planning your activities. On the plus side, traveling with 200+ students often means better group rates on tickets and attractions.
However, large groups are sometimes difficult to accommodate. Some attractions don't have the capacity for very large groups or have changed ticketing protocols post-pandemic.
Consider breaking them down into a more manageable six groups of 40. Then while one group tours the Capitol, others can visit the Smithsonian Museums or the Library of Congress and then rotate.
Be sure you have enough responsible chaperones to handle your groups!
5. Chaperones are essential – but choose wisely!
Chaperones for large student groups of 200+ are essential. They help keep track of travelers, become extra eyes and ears to help ensure safety, and offer added support during an emergency.
But we've all heard the horror stories…the ones where the chaperones get into more trouble than the students! Adults that you thought were trustworthy and reliable are suddenly acting like teens themselves. Ugh!
So how do you pick the perfect chaperones for your student trip? Click below to find out!
9 Tips for Picking the Perfect Chaperones
6. Include a tour director in your trip plans.
A tour director is a game changer if you travel with a large group of 200+. Tour directors are professional group tour leaders expertly trained to handle your trip from the minute you arrive at your destination until departure.
A tour director is experienced, highly trained, and able to troubleshoot and clearly communicate with travelers and group leaders. On a large group trip, a tour director can make the difference between an outstanding travel experience or a nightmare you never want to repeat.
7. Take advantage of the latest trip tech.
We live in a world dominated by apps and easy access. We use technology to find our way around, order food, shop, entertain ourselves, organize schedules, etc. It makes our lives easier and so much more convenient.
Travel is no exception. Technology can help make planning and executing your large group trip simple and fun! Read on for our picks for the best tech for your trip….
Best Tech for Your Student Trip
8. Make it easy on yourself and work with a student trip planner!!
For 30+ years, Kaleidoscope Adventures has been the vehicle for experiences that teach, inspire, encourage, and allow students to explore the world around them. We specialize in performance and educational travel for groups of ALL sizes.
Here's how our expert KA Team prioritizes easy planning and attention to safety: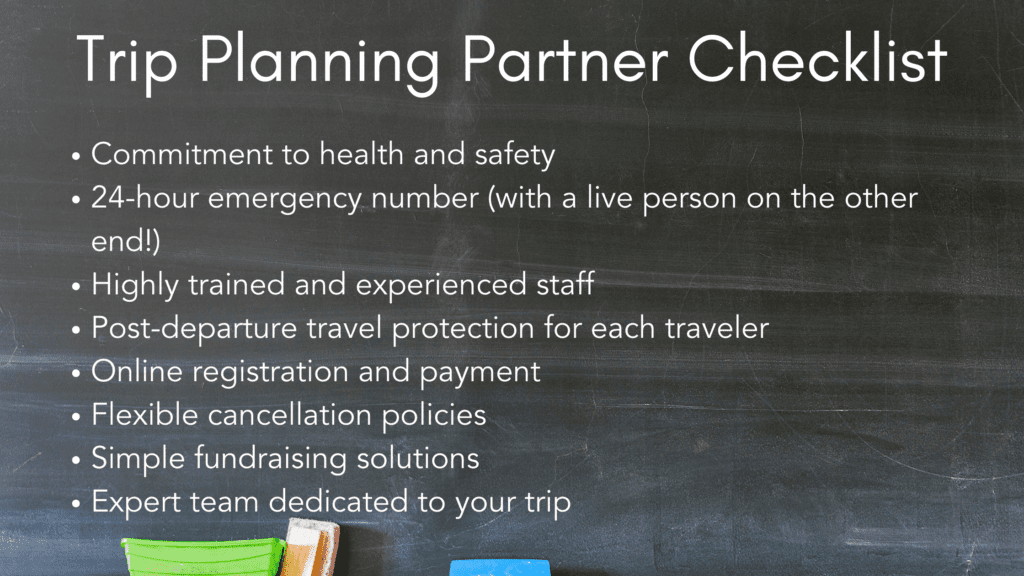 If you're planning a large student group trip for 200+, trust the KA team to handle the details from start to finish. You can count on KA to deliver travel beyond expectations!
Why Kaleidoscope Adventures?
As a leader in the student travel industry for 30+ years, Kaleidoscope Adventures exceeds expectations for student and performance group travel.
We'll work with you to plan an exceptional travel experience and provide impeccable customer service from start to finish
Learn More
Related Articles