The Ultimate Playlist: 5 Best Podcasts for High School Band Directors
Hey Band Directors – Let's Talk Podcasts!
Need a little inspiration for your music program? Check out this ultimate playlist of the 5 best podcasts for high school band directors.
Driving, cleaning, or relaxing after a long rehearsal, these seasoned pros offer valuable insights, helpful tips, and a creative boost to take your band program to the next level.
Grab your headphones and listen in!!
Why Podcasts are PERFECT for Band Directors
Podcasts are everywhere. They've become a great source of information for educators and, of course, band directors. The really good ones are like having a personal mentor guide you through the wild ride that is high school band!
So why are podcasts perfect for band directors?
Podcasts are convenient.
Band programs are a year-round commitment, so you may not have time to attend conferences or seminars. But you can listen to a podcast on your schedule – while you're commuting to work, running errands, or during rare moments of downtime (it's possible!!)
Podcasts provide a wide variety of viewpoints.
When you tune into a podcast, you may hear from veteran band directors, new hires, administrators, industry heavyweights, or successful musicians who want to share their personal experiences or strategies.
These varied perspectives can spark ideas, help you overcome challenges, or give you a fresh take on your teaching.
Most podcasts are easy to find and free.
You can stream or download episodes on your favorite platforms like Apple, Spotify, and Amazon Music. And most of them are free, making podcasts a cost-effective way to continue your professional development.
Our 5 Favorite Podcast Picks
Kaleidoscope Adventures has been planning life-changing performance travel for more than 30 years. During that time, we've learned a thing or two about bands, band directors, and what it takes to build a successful band program.
So when we had the opportunity to partner with some amazing podcasters producing content specifically for band directors, we jumped at the chance! Here are our 5 favorite podcast picks…
The Global Bandroom (KA partner podcast)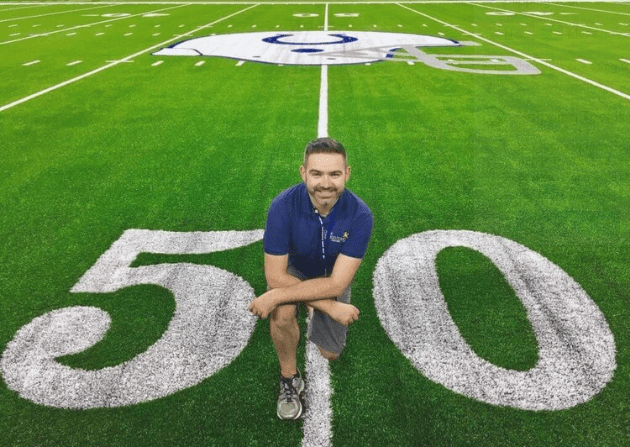 Welcome to The Global Bandroom with Keith Kelly! Keith comes to you from Galway, Ireland, where he has worked with marching and concert bands for 20+ years. He performed with Dublin's famous Artane Boys Band, served as principal clarinetist in the Irish Defence Forces Band, and founded several award-winning Irish concert bands. He served as general manager of the Artane Band and School of Music and established the Irish Symphonic Wind Orchestra.
Kelly currently works as a consultant and advisor to many arts organizations. He directs the Celtic Band Festival, welcoming marching and concert bands worldwide to Ireland each year. He's also a huge advocate for the International Drum Corps community.
The Global Bandroom with Keith Kelly
During each episode, Keith sits down with musicians and directors from across the world to talk about their stories, their bands, and how they're making an impact in their communities.
After Sectionals (KA partner podcast)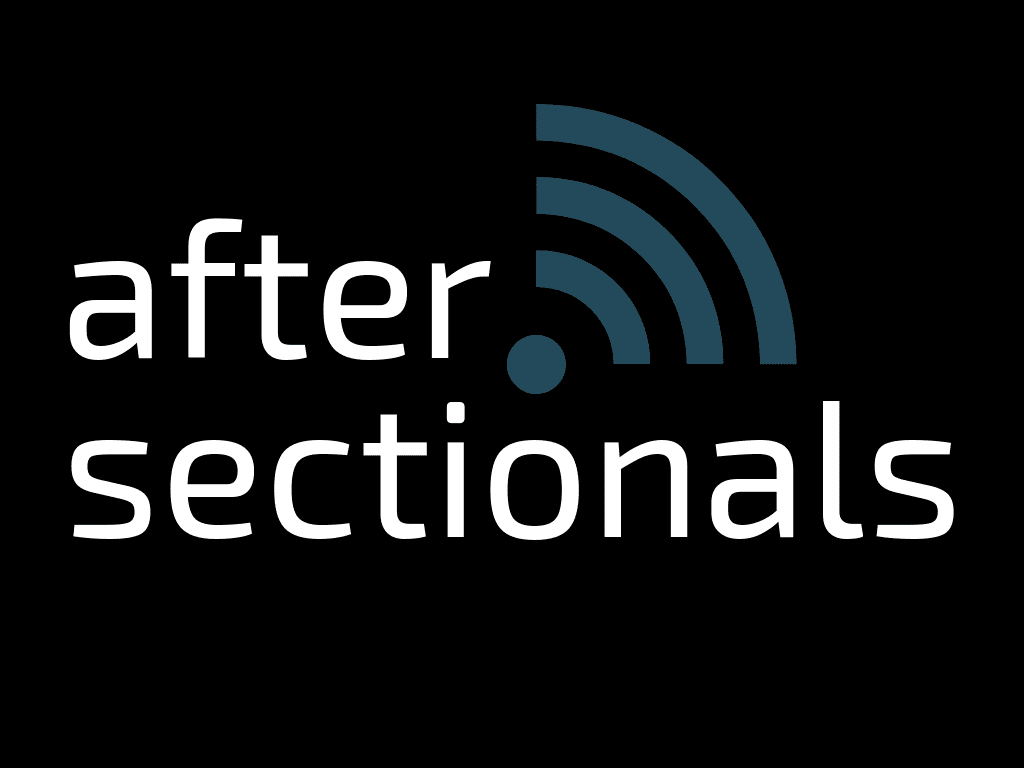 Most band directors are familiar with the voice behind the wildly popular podcast, After Sectionals. Darcy Williams is a no-nonsense director and dispenser of valuable advice. She shares the microphone with two colleagues, Jenna Yee and Alex Ortega.
Each brings a unique perspective to the band experience. Together, they share their adventures, lessons learned, and common-sense guidance with band directors everywhere. First-year directors and seasoned veterans alike have found After Sectionals to be an excellent resource for instruction.
Podcast topics dive deep into the world of classroom management, motivation, and even "staph" development (very clever!). They discuss the nuts and bolts of competition ratings, the value of mentors, managing expectations and successfully navigating a home-work balance.
Everything Band (KA partner podcast)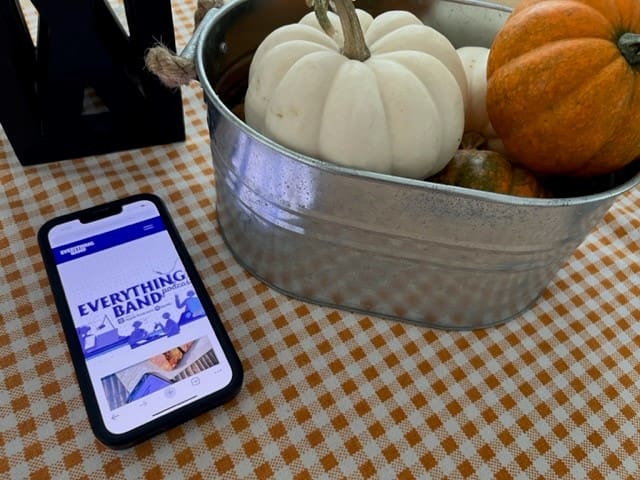 Mark J. Connor is a composer, conductor, and educator focused on writing for concert bands. His music has been published and performed at some of the top venues in the world. He's also the talent for Everything Band. His podcast features in-depth conversations with leaders in the concert band, wind ensemble, and marching arts communities.
Everything Band with Mark J. Connor
Mark brings his 20+ years of experience to the microphone during his weekly show. His episodes are packed with great advice, compelling stories, and helpful resources for music educators.
The Band Director's Lounge
You know that feeling you get when you're in a room with colleagues and the ideas just flow? That's the inspiration behind The Band Director's Lounge.
The goal of this podcast is to find out what makes successful programs work! Interviews, reviews, and more- the host wades through all your burning questions. If you're looking for some great ideas as you build your instrumental program, check out The Band Director's Lounge.
The Bandmasters
The Bandmasters podcast is hosted primarily by Don Stinson, Director of Bands at Joliet Central High School in Illinois. Don has the distinct honor of serving as only the 5th director in the band's 100+-year history.
Don's podcast style is easy to listen to, and easy to follow as he chats with distinguished and interesting guests. Topics include technology, maintaining a quality program, and building connections with students. Each is designed as a mini professional development session for band directors!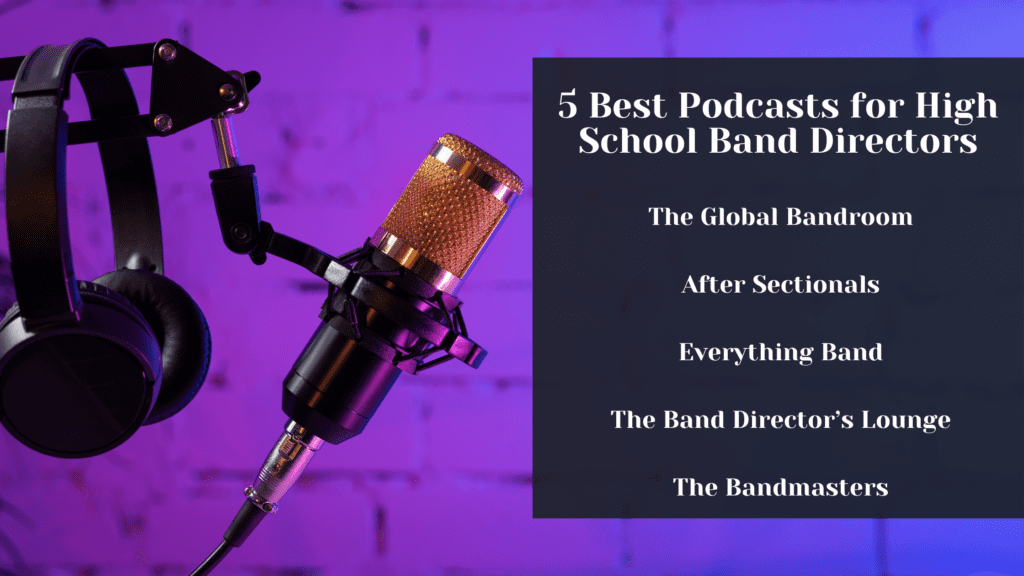 Tune In and Turn It Up!
Once you've found the perfect podcast for you, grab your headphones, tune in, and turn it up! Let the stories and strategies of band directors everywhere inspire fresh ideas and fuel a passion for your craft.
Stay connected to the trends and engage with the experts through live Q & A. However you listen, the ultimate playlist for high school band directors will kickstart your creativity!
Related Reading: 10 Travel Tips for Band Directors
Why Kaleidoscope Adventures?
As a leader in the student travel industry for 30+ years, Kaleidoscope Adventures exceeds expectations for student and performance group travel.
We'll work with you to plan an exceptional travel experience and provide impeccable customer service from start to finish
Learn More
Related Articles