How to Update Info for a KA Trip
Keeping everything organized is much simpler with the KA registration and payment platform powered by WeTravel.  However, important information does occasionally change, like addresses, allergies, or even emergency contacts.  Your trip leader will need access to the most current information to ensure your child's experience is the best it can be.
Here's How to Update Your Child's Info for a KA Trip:
You can edit the participant info you entered in the booking questionnaire or upload a document at any time after you've registered.
Just sign in to your KA/WeTravel account and go to 'My Trips'. Click on 'Manage Booking'.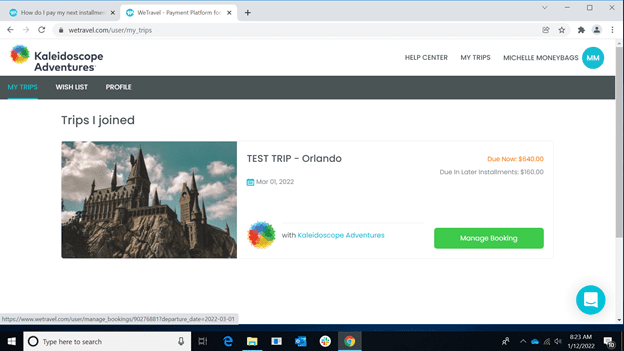 Click on 'Update Participant Information'.
You will now be able to edit the questionnaire fields, including your first name, last name, and email. This is useful if you're booking the trip for someone else (i.e. your child).
You can also upload files here if your travel organizer has instructed you to do so.
Once you're ready, scroll down, click on the 'Update Information' button and you're done!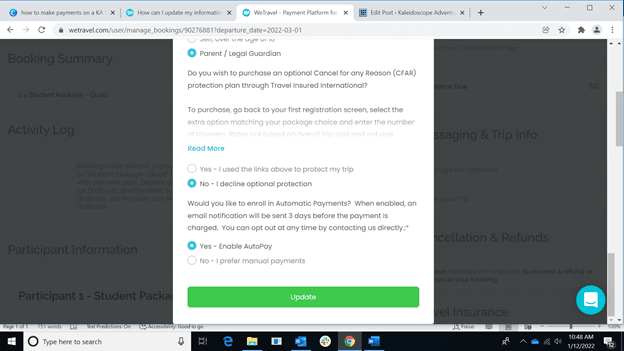 Make sure your child has the adventure of a lifetime by keeping the trip leader informed. While surprises are great for birthdays and holidays, we don't want them when we travel!
Why Kaleidoscope Adventures?
As a leader in the student travel industry for 30+ years, Kaleidoscope Adventures exceeds expectations for student and performance group travel.
We'll work with you to plan an exceptional travel experience and provide impeccable customer service from start to finish
Learn More
Related Articles