How to Make Payments on a KA Trip
Paying for the school trip can be a strain on our wallets – especially in these difficult times. But KA makes it a little easier by allowing you to make payments online using a credit card or bank card.
Pay your initial deposit and then make additional payments on the schedule set by your trip leader. No need to pay one lump sum upfront!
Here's How to Make Payments on a KA Trip:
1. You will receive an email from the trip organizer. The email will have a big button "Make Payment". Just click on the button, sign in to your KA/WeTravel account and you will be redirected to the payment page for your installments.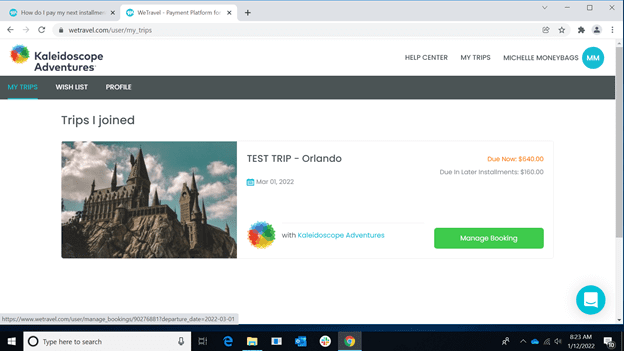 If it's your first time paying after making a deposit, then be sure to set a password for your account.
OR
2. You can sign in at any time to pay your balance. Click on "My Trips". Then click on "Manage Booking."
Then click on "Pay Installments" on the right side of the screen.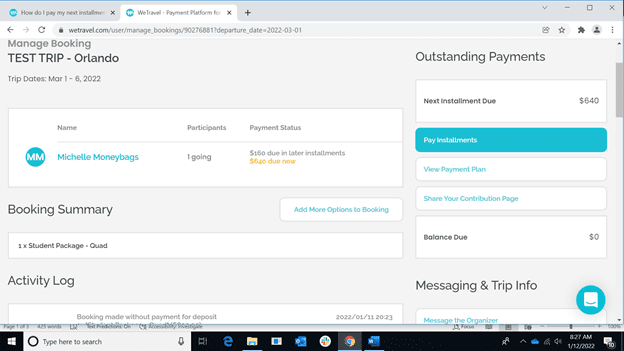 A pop-up appears where you can pay your next or all of the remaining installments.
Select a saved payment method or enter a new one and click "Confirm Payment"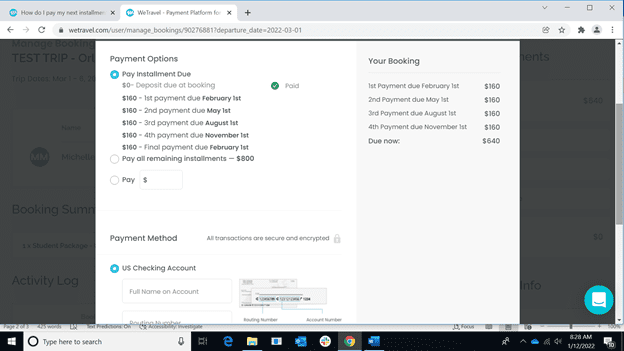 That's it! It's super simple and so convenient!!
Not Sure if You Can Afford It?
If you need a little help paying for the school trip, KA may be able to help with that, too.
Stellar Student Scholarship
The Stellar Student Scholarship is a 100% paid trip for a deserving student. The organizing teacher can nominate someone who has demonstrated leadership among peers, an improvement in academic or performance skills, or simply needs a financial helping hand.
The Stellar Student Scholarship is an opportunity to recognize one outstanding student's achievements and give him/her a chance to experience the world beyond the classroom.
Learn More About Stellar Student
Crowdfunding
Included in KA's individual payment portal is a unique link for EACH student to request help funding his or her travel.
Here's How It Works
When an individual creates a trip account in the KA payment system, s/he clicks a button to activate the contributions page. An active link is now available to share with family and friends who may want to help pay for the trip.
The link includes trip information, graphics, and any other details possible donors would need. The account owner can also edit certain details to make the page more personal.
Then, donors simply click the link and make a payment DIRECTLY to the student's individual account! It's so easy!!
How to Make Payments on a KA Trip
KA's new online registration and payment platform, fundraising options, and scholarship opportunity make paying for your KA trip a snap.
It's a simple step-by-step process that takes the guesswork out of payments so your child is ready for the adventure ahead!
Why Kaleidoscope Adventures?
As a leader in the student travel industry for 30+ years, Kaleidoscope Adventures exceeds expectations for student and performance group travel.
We'll work with you to plan an exceptional travel experience and provide impeccable customer service from start to finish
Learn More
Related Articles