The Band Should Go to Buffalo
(A True Story)
My high school senior's band is planning a trip. The usual options were tossed around at our zoom booster meeting but with no real resolution. When we finally wrapped up without a decision, I share a bit of the discussion with my son. His casual response was unexpected… "We should skip the parks and the band should go to Buffalo." What?!
The Band Should Go to Buffalo?
"Why in the world would we consider Buffalo over a park?" I asked. "Because everyone knows what to expect when you go to a park – Buffalo and Niagara Falls would be an adventure. There are some really cool things to see and do and some pretty amazing places we could perform."
Hmmm… I decided to dig a little deeper. "So, what kinds of things could the band do in Buffalo?" I asked. "Well, there's a ton of music-related activities there. I would love to see GCR and the people from Mark Custom Recording who are at all the competitions are based there. The Colored Musicians Club is there, and the first rock and roll radio station in the world is in Buffalo."
"We can also check out the Falls, go to the Hard Rock, see the Frank Lloyd Wright houses, talk about Tesla and do a bunch of outdoor stuff. It's like there's something unexpected around every corner. The parks are great, but you always get the same thing. I'd love to do something different."
Buffalo and Niagara Falls is an adventure!
Well, color me intrigued. I made it my mission to find out why any teenager would choose a trip to Buffalo over park rides. My detective work definitely was worth the effort! Below is a ridiculously long list of incredible experiences that you can have while visiting Western New York.
Colored Musicians Club
The year was 1953. A 16-year-old African American musician showed up at 145 Broadway in Buffalo for an afternoon jam session at the Local 533. After a while, a glamourous young woman with a unique voice joined in. The boy continued to play, enamored with the emotion with which she sang and the inflection in her sound.
Boyd Lee Dunlop didn't know who it was at first but quickly realized,
" Oh my, I'm playing for Ms. Holiday. As soon as we finished, I called my mother from a payphone inside. I told her who I was playing for, but she didn't believe me right away so I put Billie Holiday on the phone. She was so excited."
This is just one of the countless stories of legends and locals rubbing elbows in the iconic Colored Musicians Club, established in 1917. It remains the only African American club in the United States and is in the National Register of Historic Places.
Founded in a time when black and white musicians had separate unions, the Colored Musicians Club was a favorite spot for performers to connect and encourage each other through music. Duke Ellington, Count Basie, and Dizzy Gillespie are just a few of the musical giants of the American Jazz movement to play here.
The Colored Musicians Club & Museum welcomes student groups and invites them to perform in this celebrated venue. It's a life-changing experience that young musicians will remember for years to come!
Listen to the Music
Buffalo has a rich musical history that begins with events held more than 200 years ago in Lafayette Square. Minstrel shows got their start here with Christy's Minstrels (Buffalo Gals, anyone?) Vaudeville and Burlesque also had a big presence in the city thanks to more than 120 saloons.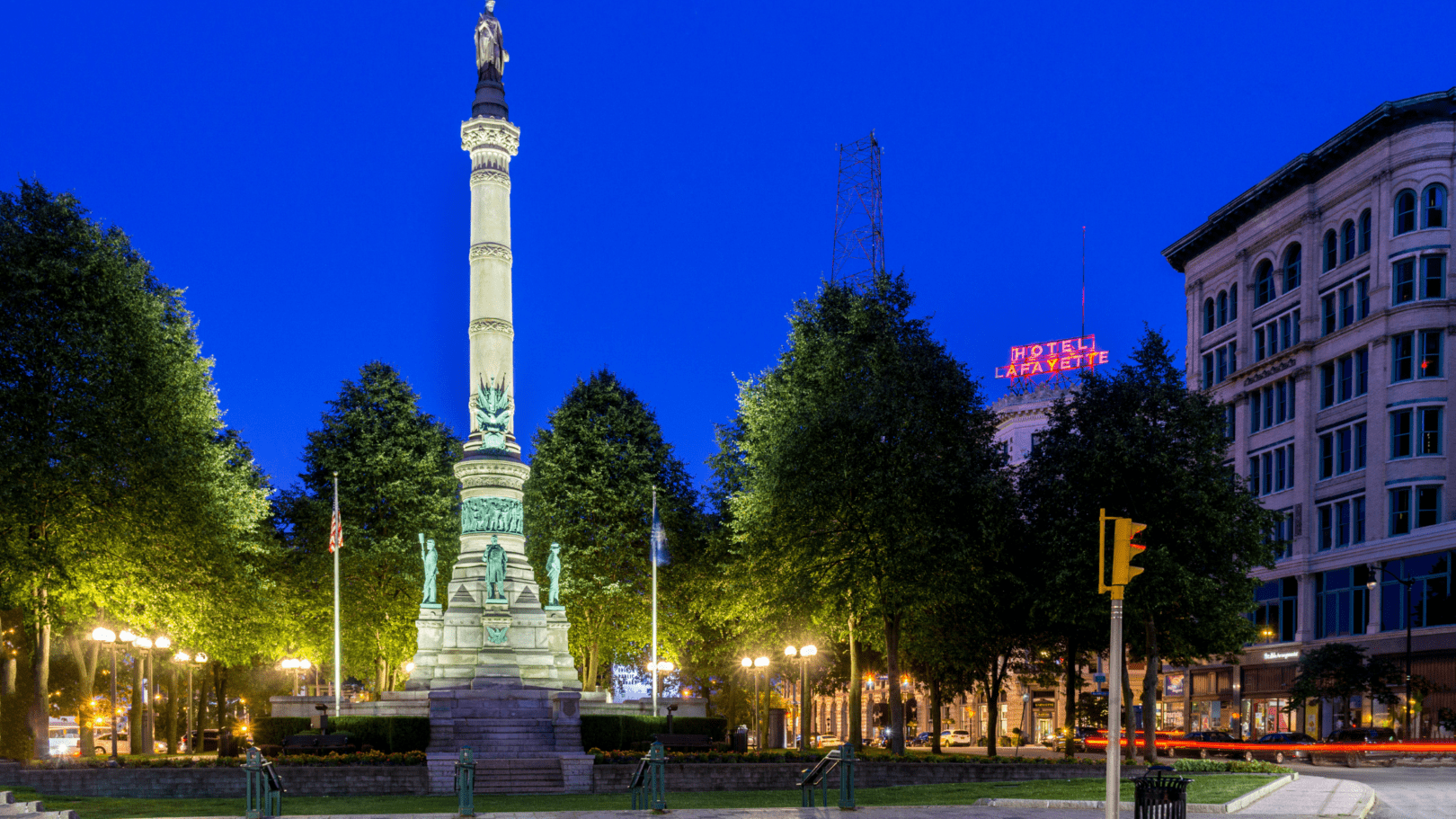 John Sheppard opened Buffalo's first music store in 1827 (it's still in business as Denton, Cottier & Daniels). He brought with him the first piano from England across the ocean and down the Erie Canal.
Rock On
Buffalo is a city filled with musical surprises. WPHD-FM is credited with being the first rock & roll station in the world. It was hosted by DJ George "Hound Dog" Lorenz in the late 1960s.
The globally renowned Buffalo Philharmonic plays at Kleinhans Hall and is directed by JoAnn Falleta. She is notably the first woman to lead a major American ensemble.
The Goo-Goo Dolls, 10,000 Maniacs, and king of funk Rick James all call western New York home.
Much of this history is proudly displayed in the Buffalo Music Hall of Fame's dedicated room at the Hard Rock Café Niagara Falls. Students can check out Buffalo's contributions to music and rock & roll while enjoying a great meal. They can also perform on the iconic Hard Rock Café stage- that's something you can't do in a theme park!
For the Record
Buffalo boasts two premier recording studios that launched artists like Jessie J. and James Taylor into stardom.
GCR Audio Studio is housed in a 150-year-old former chapel in downtown Buffalo. It was originally designed by world-famous studio architect John Storyk. Not to drop names, but he also designed for Jay-Z, Whitney Houston, Aerosmith, Alicia Keys, and Bob Marley!
Students can take a Q & A tour of this incredible facility and even plan a private recording session.
Mark Custom Recording Service may be more familiar to student groups since they specialize in concert, band, orchestra, and choral performance recordings. Live, on-site recordings of concerts, clinics, and festivals are their specialties.
Buffalo has an extraordinary connection to music's past, present, and future. Its stories and stages have been captivating audiences for more than two centuries in every genre imaginable.
Light it Up!
On November 16, 1896, Nikola Tesla flipped a switch and made Buffalo the first electrified city in the world.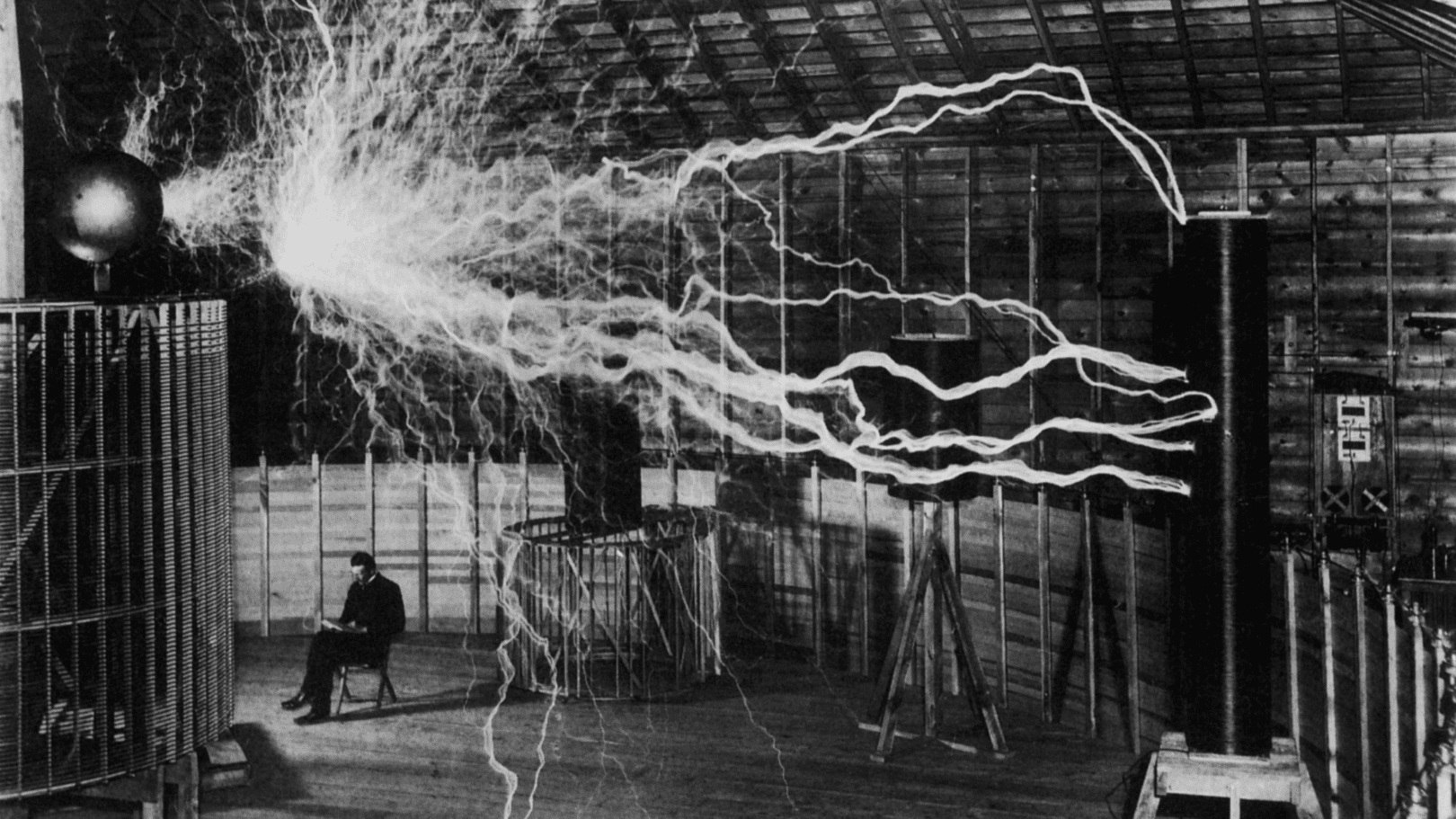 Students can learn more about Nikola Tesla and his alternating current by visiting the Niagara Power Vista. It's an awesome tour of the power plant with some really cool hands-on exhibits!
Then "Lock" It Up!
Take an award-winning narrated Erie Canal Cruise past historic sites and then into a "liquid elevator" of the double locks. It's a floating STEM session!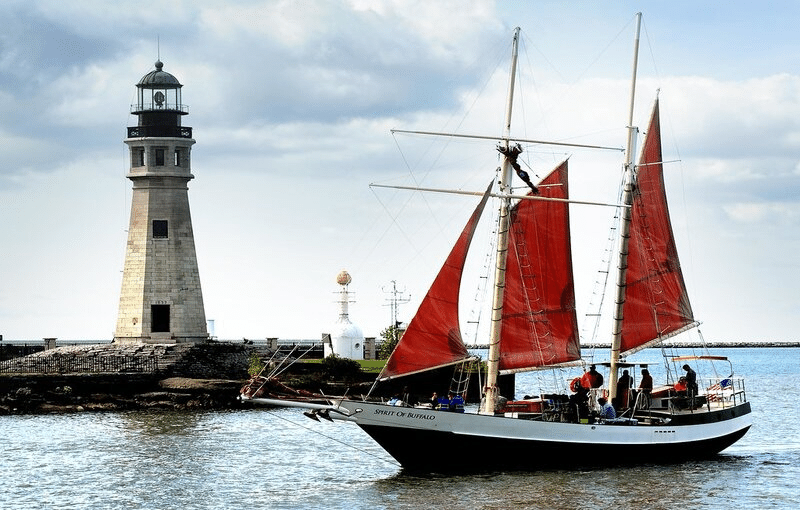 Sail Lake Erie on a magnificent 73-foot schooner! The Spirit of Buffalo offers customizable private science or history tours for students. A private pirate ship cruise with an interactive costumed crew is also available on Saturdays and Sundays.
Feeling Adventurous?
Evidently, Gen Zers are into thrills as well. Every great trip should have an element of adventure (personally, the elevated monorail is more excitement than I can handle!) Niagara Falls checks this important box as well.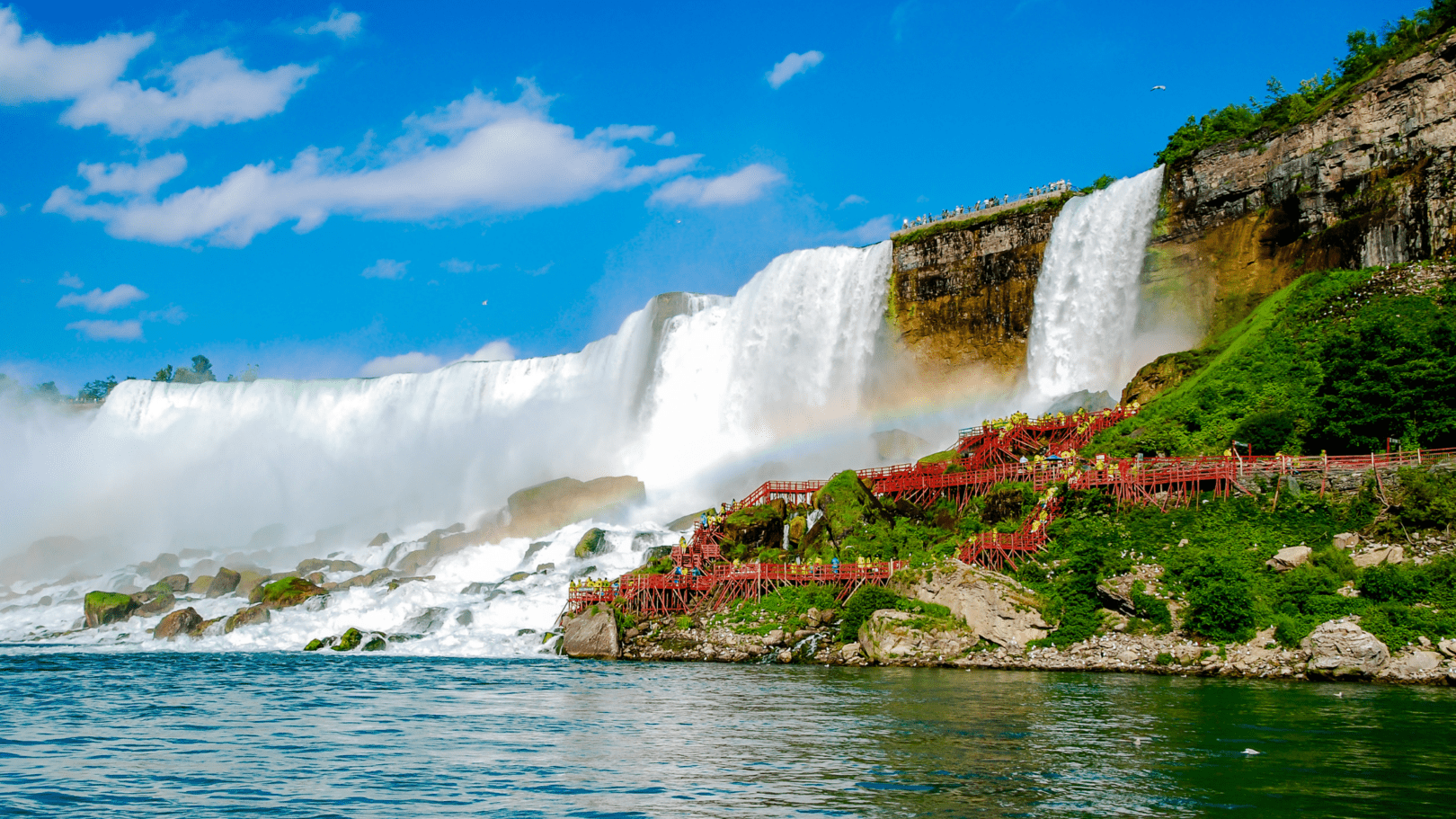 There are tons of open-air attractions like the Maid of the Mist falls tours and crashing waters at Cave of the Winds.
You can take an exhilarating Whirlpool Jetboat Tour, walk across the iconic Rainbow Bridge, or visit Goat Island and Terrapin Point. Then, check out the Niagara Falls Observation Tower for breathtaking panoramic views of all three falls.
Don't forget- Niagara State Park welcomes student performance groups. I think one of the 7 wonders of the world counts as a unique performance venue – with an international audience as a bonus!
Go Sky High
Just a quick ride from Buffalo is Holiday Valley Sky High Adventure Park. You can zipline along the treetops or zig-zag down the hill on the Sky Flyer Mountain Coaster. Swimming, gem mining, and biking are also available.
An Unexpected Treat
For a truly unusual dining option, stop at the Niagara Falls Culinary Institute.
Visitors to NFCI can enjoy Savor, a student-run upscale dining restaurant with an in-kitchen chef's table, open-hearth oven, and exhibition-style cooking. Stop at the ice sculpting or La Patisserie, a European-style pastry café. There's even a Barnes and Noble culinary-themed store.
For the foodies in your group, schedule a private cooking class with an Institute chef. It's an exclusive private dining experience you won't find anywhere else!
Yep! The Band Should Go to Buffalo!
The band is passing on the parks and trying a 2022 trip to Buffalo and Niagara! Park prices are going up and performance opportunities are sparse with so many groups re-booking. Moreover, it looks like we may not be able to get the workshops we would like.
Planning a Buffalo and Niagara Falls trip is less expensive with lots more bang for our bucks. The students are excited about the experiences here and the interesting stages on which they can perform. Just like Boyd Lee Dunlop, our young musicians are in for an unexpected thrill – exactly what they hoped for!
Why Kaleidoscope Adventures?
As a leader in the student travel industry for 30+ years, Kaleidoscope Adventures exceeds expectations for student and performance group travel.
We'll work with you to plan an exceptional travel experience and provide impeccable customer service from start to finish
Learn More
Related Articles