Responsible Tourism – 5 Ways to Respect Your Home Away From Home
Travel is awesome. Exploring new places, meeting new friends, trying new things – it's such a rush! But as you indulge your wanderlust, remember that your adventure is someone else's everyday life. Practice responsible tourism and respect your home away from home!
1. Do Your Homework
As part of your trip preparations, do your homework. Learn everything you can about the destination you'll be visiting. Find out what customs they observe, how they preserve natural resources, or what their economy is based on.
For example, many places preserve their water systems by not flushing toilet paper. Instead, you toss your tissue in a garbage can. Knowing that ahead of time can help you prepare.
Other destinations limit or eliminate vehicle traffic. Catalina off the California coast allows only 1,100 vehicles on the island. Therefore, most residents and visitors get around on foot or in a golf cart.
Understanding the culture of your destination is important as well. For example, we recently visited the Monastery of San Gerasimos on the Greek island of Kefalonia. It's a magnificent structure with access to the cave where St. Gerasimos lived in the 16th century. (St. Gerasimos himself is actually visible to the public as well – but that's a story for another time!)
The rules for visiting were very different for women than men. Women were not permitted to enter the sanctuary without being covered from the neck down. Since it topped 100 degrees the day we visited, most of us were in sundresses or shorts and required to don robes at the door.
Educating yourself about your destination will help you manage expectations and be a better guest!
2. Use Eco-Friendly Transportation
When possible, use eco-friendly transportation like motorcoaches to get around. You read that right!
Motorcoach travel is efficient and environmentally friendly. One gallon of fuel = 240 passenger miles! Compare that to the 50-passenger miles you get in a good hybrid.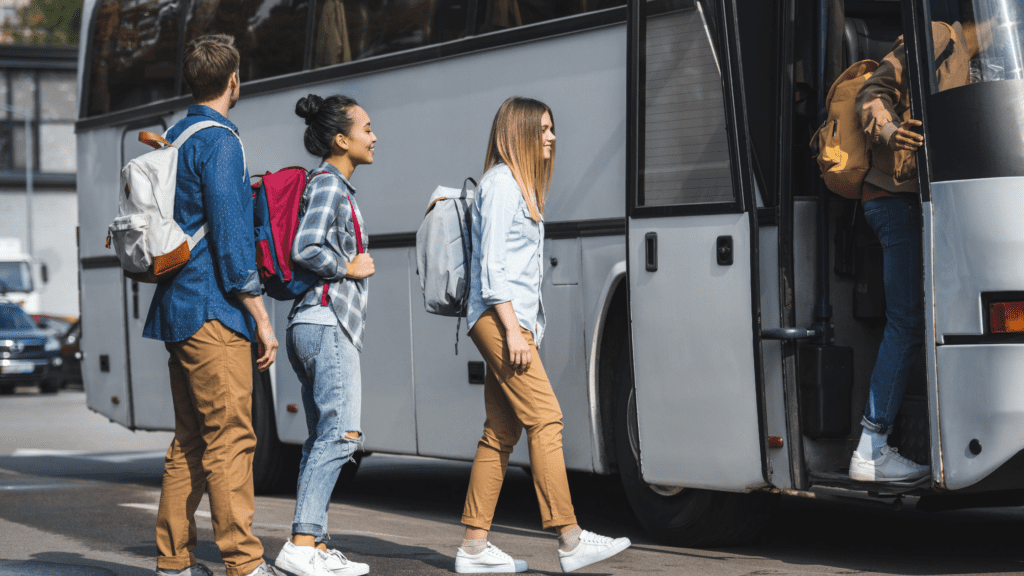 Motorcoaches also have the lowest carbon footprint among transportation providers like air, rail, and automobile. One motorcoach using cleaner diesel fuel can replace 36 cars, reducing pollutants AND congested roads.
Today's travelers are much more conscious of how the decisions they make impact the world they are exploring. Showing them the environmental benefits of motorcoach travel is a gamechanger!
3. Choose Eco-Friendly Lodging
Choosing an eco-friendly hotel isn't nearly as difficult as it used to be. Most properties practice at least some environmentally friendly protocols like recycling, reduced water consumption, climate-controlled rooms, etc.
If you really want to sleep green, choose an eco-hotel that is committed to incorporating environmental improvements.
Eco-hotels are integrated with the natural environment, focused on conservation, offer environmental training, are sustainable, and benefit the local community.
4. Support the Locals
Be a responsible tourist and support the local economy. Many destinations rely solely on tourism dollars, so make yours count!
Request a guided walking tour led by a local, shop for handmade souvenirs, and eat at locally owned restaurants. Not only will you have a more authentic travel experience, but your cash will directly benefit those who live there.
5 Ways Tourism Can Support Local Economies
5. Minimize Your Footprint
One of the most important ways to practice responsible tourism is to minimize your footprint in the destination:
Carry a refillable water bottle
Travel by train or motorcoach when possible (cleaner and more efficient)
Stay at "green" properties
Conserve energy by turning lights off when not in use, taking quick showers, reusing towels, and lowering the thermostat
Buy local (worth repeating!)
These are just a few small ways we can all travel a little smarter and do our part in the communities that host us.
Responsible Tourism – Respect Your Home Away From Home
Travel is an amazing window into the lives of others. But when we are exploring these new faces and places, remember that you are a guest in someone else's HOME. Respect it just as you would your own!
Why Kaleidoscope Adventures?
As a leader in the student travel industry for 30+ years, Kaleidoscope Adventures exceeds expectations for student and performance group travel.
We'll work with you to plan an exceptional travel experience and provide impeccable customer service from start to finish
Learn More
Related Articles