5 Pro Tips to Plan A Student Trip
Planning a student trip is a BIG job! As a teacher, you already have a million tasks on your plate each day. The logistics of moving kids from Point A to Point B falls somewhere around 749,000… To help make the process a lot easier, here are 5 tips you need to know when you plan a student trip.
5 Pro Tips to Plan A Student Trip
Safety First
Now more than ever, student safety is everyone's top priority. Here are some simple safety guidelines to keep in mind: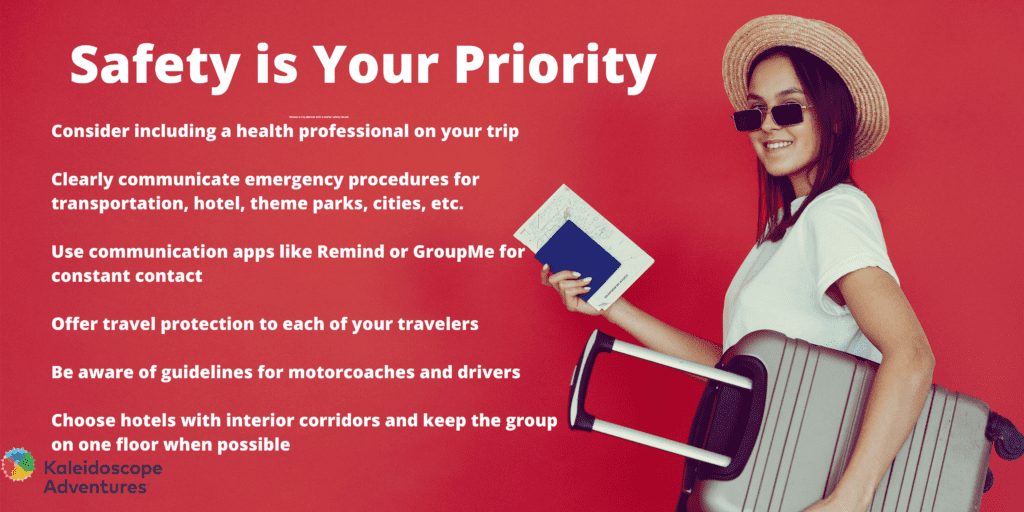 Experience Counts!
Let's talk money.
Work with an EXPERIENCED and FINANCIALLY RESPONSIBLE company to plan your student trip. The pandemic has had an unfortunate impact on many student travel companies.
The last thing you want is to plan an amazing travel experience for your students only to find out that the company with which you are working can't handle its finances. If your trip has to be canceled or postponed, be sure that your trip planner is prepared to handle refunds or rescheduling.
Your trip planner should also offer travel protection through a reputable third party. Companies that self-insure may not be able to pay claims if trips cancel on a large scale as they did in 2020.
Let's talk know-how.
You should also look for a seasoned team of professionals who know the ins and outs of planning a student trip.
If you're planning a band, choral, or theater trip, a company specializing in performance travel is clutch. They'll connect you with unique venues and immersive experiences you may not be able to find on your own.
IDEAS FOR PLANNING A PERFORMANCE TRIP
If you're planning an educational experience, a knowledgeable planner will help you find destinations that are rich in history or great for STEM. A student trip planner will know about special academic programs or experiences that meet your curricular needs.
IDEAS FOR PLANNING STEM TRAVEL
An expert team will know where to go and (more importantly) where NOT to go, find you reliable transportation, student-friendly lodging, and great group dining options.
Convenience is Key
Simplify the planning process and find a company that uses an online payment system. Even better, work with a company that has a built-in platform for individual "crowdfunding" as part of that payment system!
Kaleidoscope Adventures has an online payment system that makes collecting individual payments hassle-free.
Kaleidoscope Adventures also knows that every student deserves the chance to participate in the school trip, regardless of finances. Included in the individual payment portal is a unique link for EACH student to request help funding his or her travel.
Anyone who has ever planned a student trip will tell you THIS IS A GAME CHANGER!
Take It to the Board
Remember that the final word on travel lies with your school board or committee. Put together a plan that includes your curricular goals, costs, safety procedures, and days of travel.
Be prepared to share your itinerary and all vendors with which you are working. Assure them that you are partnering with a reputable and experienced trip planner who knows the student travel industry with professional memberships like Student Youth Travel Association.
Parents Have Questions
Parents have lots of questions when sending their offspring into the wide, wide world! They'll want to know about chaperones, dress code, spending money, rooming buddies, food, and more. Make sure you can speak to all the points above and anything else that pops up. For more helpful tips on how to prepare for parent questions, read on…
WHAT PARENTS ASK ABOUT THE SCHOOL TRIP
Success is in the Details
Success is in the details when you plan a student trip. Unfortunately, details sometimes get buried in everything else you do as a teacher! The most important thing to remember is that working with an experienced student trip planner makes it so much easier. They'll handle the nuts and bolts of your adventure so you can focus on the other 999,000 things you do every day!
This post was updated June of 2023
Why Kaleidoscope Adventures?
As a leader in the student travel industry for 30+ years, Kaleidoscope Adventures exceeds expectations for student and performance group travel.
We'll work with you to plan an exceptional travel experience and provide impeccable customer service from start to finish
Learn More
Related Articles