Junket – A Student Tour with A Tech Twist
Just like everything else, travel is changing and evolving. Tourism and tech are colliding, resulting in fresh and intriguing ways to explore destinations. And we've found one of the best ways for student groups to experience new places… Junket. If you haven't already, it's time for your groups to experience Junket – a student tour with a tech twist!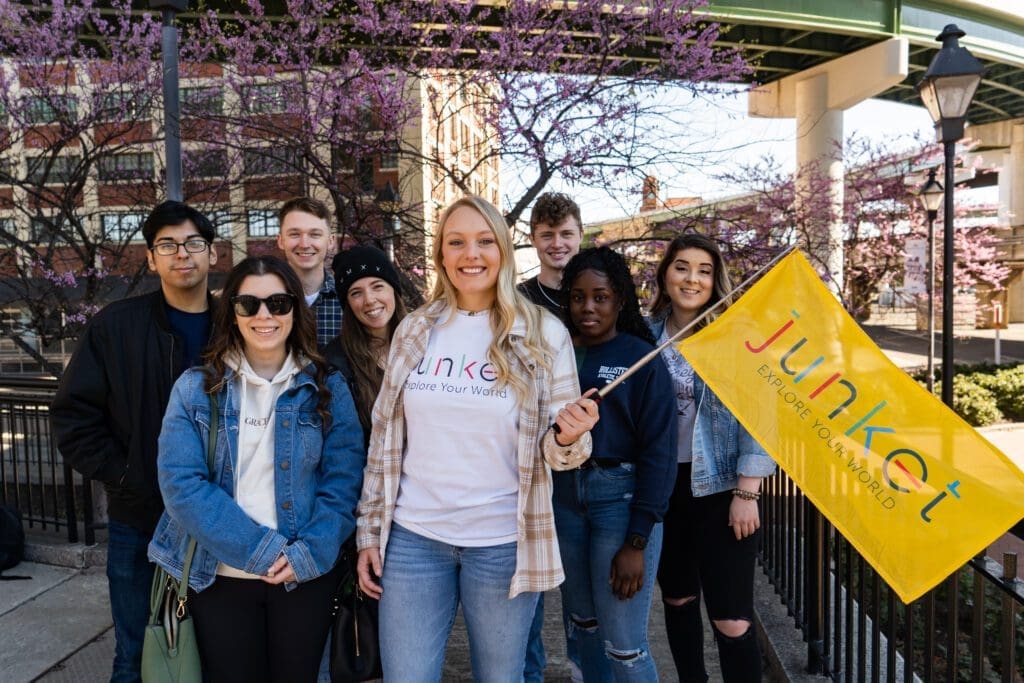 What is Junket?
Junket curates unique guided and self-guided tours with an unexpected bonus. Augmented Virtual Experiences (AVEs) can be used to add fun and adventure to your tour via the Junket app.
How Does the Junket App Work?
The app integrates GPS-triggered locations that become active within a certain radius. Photos, text, audio, and sometimes video pop up at your stop.
Depending on the tour/destination, an "adventure" feature is available. You may be able to activate an outdoor escape room or scavenger hunt experience. Users compete to accumulate points and earn trophies redeemable at location sites (think souvenir mug or t-shirt!! 😉)
Where Can I Find a Junket Experience?
Junket operates more than 130 tour experiences in 65 cities, so there's a good chance you'll find one in a student-friendly destination. Ghost tours, superheroes, and hidden histories are among the highlights. Some are even a fusion of favorites!
Some of the most popular student tours include:
NYC Superheroes: Marvel and DC Comics Origins
New Orleans Ghosts and Ghouls of the French Quarter
D.C. Unlocked: Secrets, Spies, and Symbols
We Shall Overcome: Williamsburg Black History Experience
Tour dates and times are flexible and are priced competitively depending on the region and season. Each lasts approximately 1 to 2 ½ hours with options to customize with step-on bus tours or plan a longer experience.
More Fun to Come!
Junket is just getting started with a full-time staff of 25+ hiring managers, operations managers, researchers and historians, writers, and marketing staff. In addition, they work with more than 275 expert local tour guides in the places you love!
They even own and operate two of their own historic properties – the infamous Historic Lizzie Borden House Bed and Breakfast in Fall River, Massachusetts, and the Brickhouse Inn Bed & Breakfast in Gettysburg, Pennsylvania.
If you're heading to either of these student destinations, be sure to check them out!
Find Out More About Junket
Junket offers immersive tours of iconic spots throughout the U.S. and across the globe. They tell the fascinating stories of these places in a way that engages students' minds and captures their imaginations!
And just like their tours are a refreshing departure from the same old, same old, so is how they work with student groups. Junket has flexible start times, offers budget-friendly pricing, and welcomes groups of all sizes.
Experience Junket – A Student Tour with A Tech Twist
Junket is an inspired blend of tours and tech perfect for today's student travelers. Wherever your adventures take you, experience Junket – a student tour with a tech twist!
FIND OUT HOW TO ADD A JUNKET TO YOUR NEXT STUDENT ADVENTURE
Why Kaleidoscope Adventures?
As a leader in the student travel industry for 30+ years, Kaleidoscope Adventures exceeds expectations for student and performance group travel.
We'll work with you to plan an exceptional travel experience and provide impeccable customer service from start to finish
Learn More
Related Articles