Bring Broadway Home
So many of us were looking forward to a spring trip to New York City and a Broadway show. Instead, this vibrant city is focusing its energy on keeping its people well and healthy. While the bright lights of Broadway are momentarily dim, bring Broadway home!
The Lion King Experience
This is awesome in a way that only Disney can do awesome! Disney Theatrical Productions is unlocking access to its web-based arts education program, The Lion King Experience. It's an immersive look at how this Broadway giant comes to life night after night.
The kids' and juniors' curricula include lessons in playwriting, production, direction and more. Students create an original song, design a theatrical mask or even develop a stage lighting concept. Best of all, each lesson is introduced by Lion King stars Jelani Remy (Simba) and Syndee Winters (Nala). Take advantage of this incredible opportunity while learning from home!
Living Room Concerts
If you miss the best of Broadway and its incredible performers, check out Living Room Concerts. Broadway stars perform fan favorites- directly from their living rooms to yours. Songs from shows like Hamilton, Prince of Egypt and Dear Evan Hansen are just a few of the featured hits!
#Live at Five Home Edition
Broadway.com is giving us a little light-hearted fun with the #Live at Five Home Edition. It features your favorite Broadway stars live from their own homes. They answer questions and share show secrets with viewers. You'll feel like a Broadway insider!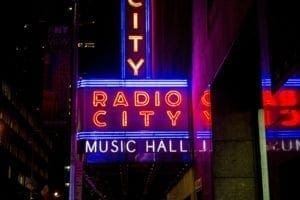 Radio City Rockettes®
If you've ever thought you have what it takes to dance with the Rockettes, now's your chance to find out! The Radio City Rockettes® is offering free virtual dance and workout classes through Dance With Us From Home.
Every Thursday at 12 p.m. the Rockettes will be live on their Instagram page teaching free dance lessons based on choreography from their Christmas Spectacular show. If you post your videos of their choreography with #RockettesLive and tag them, they might just share it!
Broadway Bites
The Quarantine Fifteen… Ha! I'll count myself fortunate to come out of this only 15 pounds up. I have spent more time in the kitchen these last six weeks than in 24 years of marriage. I've tried the whipped coffee, made the bread, and baked enough cookies to last until Christmas. My family has served as willing (well, mostly willing) testers of my creations and found them edible (again, mostly!)
When Broadway-inspired recipes appeared like magic in my email, I took it as a sign to accept a new challenge.  Below are links to some really fun recipes based on iconic Broadway shows. I've only managed to pull off the Mary Poppins' umbrellas so far (I can handle cutting cheese in half) but can't wait to try some of the others.
Add a little pizzazz to your family's quarantine diet and give some of these a try.  Then post your pics to our Facebook page with #BringBroadwayHome!
It won't be long until Broadway is buzzing with excitement and energy again. Until then, have a little fun NYC-style and bring Broadway home!
Why Kaleidoscope Adventures?
As a leader in the student travel industry for 30+ years, Kaleidoscope Adventures exceeds expectations for student and performance group travel.
We'll work with you to plan an exceptional travel experience and provide impeccable customer service from start to finish
Learn More
Related Articles