5 Tips to Make Learning from Home Work!
As students prepare to return to school this fall, it may look a little different than in the past. Masking and social distancing will replace backpacks and team activities. Many students will be learning from home part or full-time rather than in classrooms. As parents get ready for the new school year, we have 5 helpful tips to make learning from home work!
1. Stick to A Routine
When we moved to "crisis learning" this past spring, students everywhere were suddenly freed from the morning alarm. As a result, they became creatures of the night- lurking on social media and binging Netflix until the sun came up!
This time around, stick to a routine. Set a healthy sleep schedule, begin each day at the same time, and plan for snacks and lunch. Stay on top of upcoming assignments and submit completed work punctually. When students and parents know what to expect, they can plan for a successful day.
BUILDING ROUTINES AND STRATEGIES FOR REMOTE LEARNING
2. Create A Workspace
Classrooms are thoughtfully designed for maximum impact on learning. Walk into any kindergarten class and you'll find warm and colorful backdrops, cozy reading corners and lots of interactive teaching tools.
While home is not an ideal classroom space, it can still be a functional and comfortable learning environment. Designate a quiet, brightly lit spot just for online "school." Find a comfy chair and a clear work surface for devices, books and other supplies. Also, be sure the designated workspace has a reliable internet connection.
HOW TO CREATE AN AT-HOME LEARNING SPACE FOR YOUR CHILD
3. Stay Engaged
Remote learning means more screen time and less interaction with real, live human beings. It's important for both parents and students to communicate regularly. Parents should check schoolwork regularly and stay in touch with teachers about their child's progress. Talk with students about their school days and what's working (or not!)
Older students need to connect with teachers and parents as well. As curriculum and preparation for college or career become more vigorous, it's more important than ever to keep lines of communication open and active.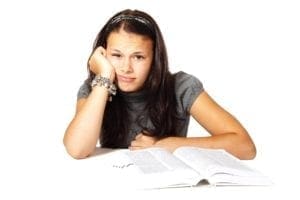 4. Take A Break
Sitting in one spot staring at a screen all day is tough. It can cause headaches, impair focus or foster inactivity. Students need frequent brain breaks during the school day. Get some fresh air, do a little dance or have a healthy snack. Breaks help refresh tired minds and energize learning.
5. Gather Resources
There are lots of great resources available for at-home learning. Curricula for all levels, support programs, activities, and books are accessible with just a click.
Take a virtual tour of a fabulous museum like the Holocaust Museum. Supplement your STEM instruction with lessons from the U.S. Space and Rocket Center. Explore the Great Wall of China. Keep learners engaged with a stockpile of ideas!
350+ AMAZING ONLINE LEARNING RESOURCES
As students return to school this fall, classrooms just may be kitchens! These are 5 tips to make learning from home work – for you and your child!
Related Reading
How to Support Learning From Home
Working and Learning from Home During the COVID 19 Outbreak
Back to School Planning: Checklists to Guide Parents, Guardians and Caregivers
Why Kaleidoscope Adventures?
As a leader in the student travel industry for 30+ years, Kaleidoscope Adventures exceeds expectations for student and performance group travel.
We'll work with you to plan an exceptional travel experience and provide impeccable customer service from start to finish
Learn More
Related Articles