Where (And When) Can Bands Perform?
St. Patrick's Day Parade- canceled. National Cherry Blossom Festival – canceled. National Memorial Parade- you get the idea. Early 2020 was no friend to marching bands! As we wrap up a less than stellar spring, you may wonder what's in store for next year? Where (and when) can bands perform?
We don't know what the school year will look like but we do know there will be amazing performance opportunities for marching bands! Now is a great time to think about where your band can flex its skills. Here are a few venues to consider:
Fall 2020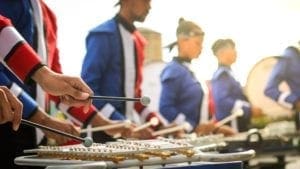 Bands of America 2020
Twenty-three BOA Regional Championships are planned for the fall of 2020. Bands of America Championships are nationally recognized as premier high school marching band events and listed on the 2019-2020 National Association of Secondary School Principals as an approved program for students. They are stunning displays of skill and pageantry. Beyond all of this, they are the playoffs for which our kids have trained so diligently. Find the BOA event that makes sense for your band and showcase your students' incredible talent on a national stage!
Youth in Music Marching Band Championships
The 16th Annual Youth in Music Marching Band Championships will be held October 10, 2020, in Minneapolis at the U.S. Bank Stadium. The field contest will be the biggest yet with 33 midwestern bands participating.
In addition to incredible high school talent, several college marching bands will wow the crowds with guest performances. These include the University of Wisconsin-Eau Claire Blugold Marching Band and the North Dakota State University Goldstar Marching Band.
Nashville Christmas Parade
The Nashville Christmas Parade has been a staple of Middle Tennessee's holiday season since 1927. This year's event is December 5, 2020, and includes celebrity performances, elaborate floats, balloons and mass performing groups. Marching bands can get in on the fun and festivities as the parade route travels along the "Musical Mile." It's an exceptional way to highlight your talented performers while having an amazing time in Music City, U.S.A.
Spring 2021
If you're taking a "wait and see" approach before planning a trip, think about a spring 2021 performance.
There are great opportunities for students to showcase their skills in the coming year!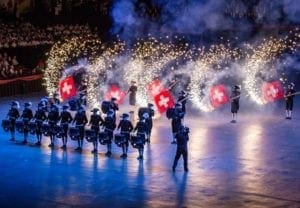 Virginia International Music Festival
Tattoo began in 1997 and is the signature event of the Virginia Arts Festival. It is a powerful presentation of sight and sound, with one person comparing it to the opening ceremony of the Olympic Games! The performance is unmatched for its energy and patriotism, and it culminates in an international collaboration of showmanship that will leave you speechless.
High school marching bands join the excitement as part of the Norfolk NATO Festival Parade of Nations that kicks off Tattoo. It features more than 100 units representing each of the 29 NATO member nations.  It's also the only parade in the U.S. that honors NATO. It truly makes you proud to be part of our international community!
TAKE YOUR BAND TO VIRGINIA INTERNATIONAL TATTOO
OrlandoFest
OrlandoFest is a premier, education-based music experience happening February through June in Orlando, FL. Performers of all ages participate in Music Festivals or Workshops designed to reinforce concepts taught in the classroom or studio. In addition to state-of-the-art facilities, each program includes admission to Universal Orlando Resort™.  It's a great way to reward your students' hard work!
The spring shows of 2020 may have fizzled, but the coming year looks great! We all look forward to marching band performances. It's time to plan a trip to one of these amazing venues and give them a chance to show them off!
Why Kaleidoscope Adventures?
As a leader in the student travel industry for 30+ years, Kaleidoscope Adventures exceeds expectations for student and performance group travel.
We'll work with you to plan an exceptional travel experience and provide impeccable customer service from start to finish
Learn More
Related Articles