6 Sensational Performance Trip Ideas for Student Choirs
When you're ready to plan a performance trip but you're not sure where to go, we've got you covered. Here are 6 sensational performance trip ideas for student choirs guaranteed to hit the high notes!
New York City and MCP
Your choir can perform on stage in famous venues with exceptional guest faculty when you collaborate with Manhattan Concert Productions. They offer exclusive performance experiences to help your group shine brightly in a professional and supportive setting.
Masterwork Series
Qualified choral ensembles can collaborate on a major work alongside a professional orchestra and soloists. Under the direction of a renowned guest conductor, these ensembles come together to form the Masterwork Festival Chorus.
Take It Outside
If you're working on a limited budget, consider an outdoor performance in the city. If your group is 20 or more, you can apply for a special permit from the New York City Department of Parks and Recreation to perform in one of the city's public parks.
The application fee is only $25 but takes 21-30 days to process. Imagine your students wowing the crowds in Central Park or Battery Park – talk about making the world your stage!
Southern Star Music Festival
Southern Star Music Festival in Atlanta is open to groups of 20 or more in elementary, middle, junior high, and high schools. Your show choir will perform at the beautiful, 600-seat Riverside Epicenter Auditorium. You'll also get a recording of the group, quality adjudication, and two-day admission to Six Flags Over Georgia.
The event wraps up with an awards ceremony at Axis Arena within the park. It's an amazing, energizing venue for show choirs and a great time for students!
OrlandoFest
OrlandoFest is a premier, education-based music experience in Orlando, FL. Performers of all ages can participate in either Music Festivals or Workshops. Sessions are designed to reinforce concepts taught in the classroom or studio.
In addition to state-of-the-art facilities, each program includes admission to Universal Orlando Resort™. It's a great way to reward the efforts of your dedicated students!
CODA Concerts
Dedicated to aspiring singers and goal-oriented choirs, CODA (Choral Organizations & Developing Artists) Concerts is a national leader in providing exceptional coaching and choral content for your performance travel. They feature choir festivals in NYC, San Francisco, Kansas City, Williamsburg, and Washington D.C.
Directors choose from Solo Ensemble Stage Time or CODA Chorale at a prestigious hall, and then a series of optional electives to meet your needs.
All festivals include essentials like workshops and masterclasses, a professional production team, performance and venue management, an official program and a performance at a prestigious hall. An official photographer and a performance audio recording are also included.
Songs and Sand Children's Choir Festival
Join Dr. Emily Williams Burch and Alex Gartner for a children's choir event that hits all the high notes! The Songs and Sand Children's Choir Festival will inspire, excite, and energize youth choirs and conductors from around the country.
Myrtle Beach, South Carolina serves as the beautiful backdrop for this dynamic event June 2-4, 2023.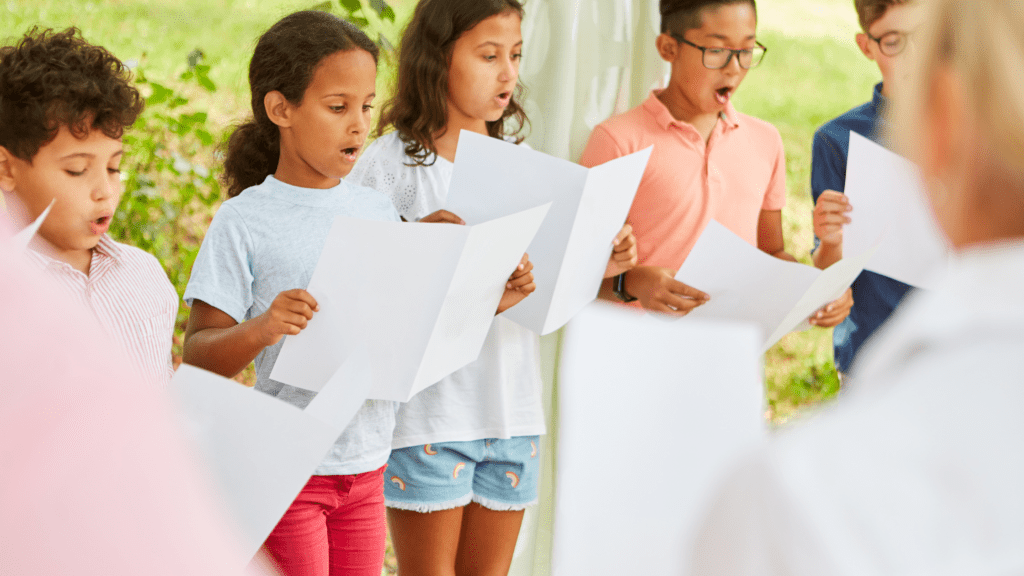 Here's what you can expect:
Varied, flexible, and accessible repertoire including selections by Andrea Ramsey, Ryan Main, and J. Reese Norris
Clinics for individual ensembles (led by Burch or Gartner)
Performances by Burch's and Gartner's ensembles
Professional development for conductors (including adapting music for a variety of voicing, rehearsal techniques, and other trending topics)
Opportunity to perform at local worship services
Time to enjoy the sun and sand!
The Songs and Sand Children's Choir Festival is ideal for growing programs, younger touring choirs, or part of a larger trip for advanced choirs.
Inspiring and Original Venues
Think outside the box and plan a choir trip with an inspiring and original performance venue!
Churches and cathedrals will often welcome student choirs to perform. Consider the National Cathedral in Washington D.C., St. Louis Cathedral in New Orleans, Grace Cathedral in San Francisco, and Riverside Church or the Cathedral of St. John the Divine in New York City.
Many museums will allow informal and brief performances in the lobby as well – what a great addition to your trip itinerary!
If you're really feeling avant-garde, request a permit from the National Park Service to sing in at a national memorial or park. Imagine the acoustics on the rim of the Grand Canyon!
6 Sensational Performance Trip Ideas for Student Choirs
There's nothing quite like the lofty and harmonic voices of a choir to make you believe in magic! These performance trip ideas for student choirs are an amazing way to showcase your sound.
Plan Your Student Choir Performance Trip
For more great ideas or to start planning your choir performance trip, contact the experts at Kaleidoscope Adventures.
KA has 30 years of experience planning outstanding performance travel. Online registration and payments, convenient crowdfunding options, and an expert team make your planning simple and efficient.
We'll work with you to plan an exceptional travel experience and provide impeccable customer service from start to finish!
Why Kaleidoscope Adventures?
As a leader in the student travel industry for 30+ years, Kaleidoscope Adventures exceeds expectations for student and performance group travel.
We'll work with you to plan an exceptional travel experience and provide impeccable customer service from start to finish
Learn More
Related Articles