The 'New Normal' for Student Travel
The phrase 'new normal' has become a daily part of our conversations. We all wonder what the 'new normal' will look like as we emerge from the safety of our homes. Will we be able to hug our loved ones? How long will masks be required? When can we travel again? What will be the 'new normal' for travel?
Change can be scary, but it can be exciting, innovative, and positive! While the travel industry has been hit hard during the pandemic, it has responded with forward-thinking safety initiatives and a heavy emphasis on customer service. As you think about planning a student trip, there are new recommendations in place to help ensure the well-being of all travelers.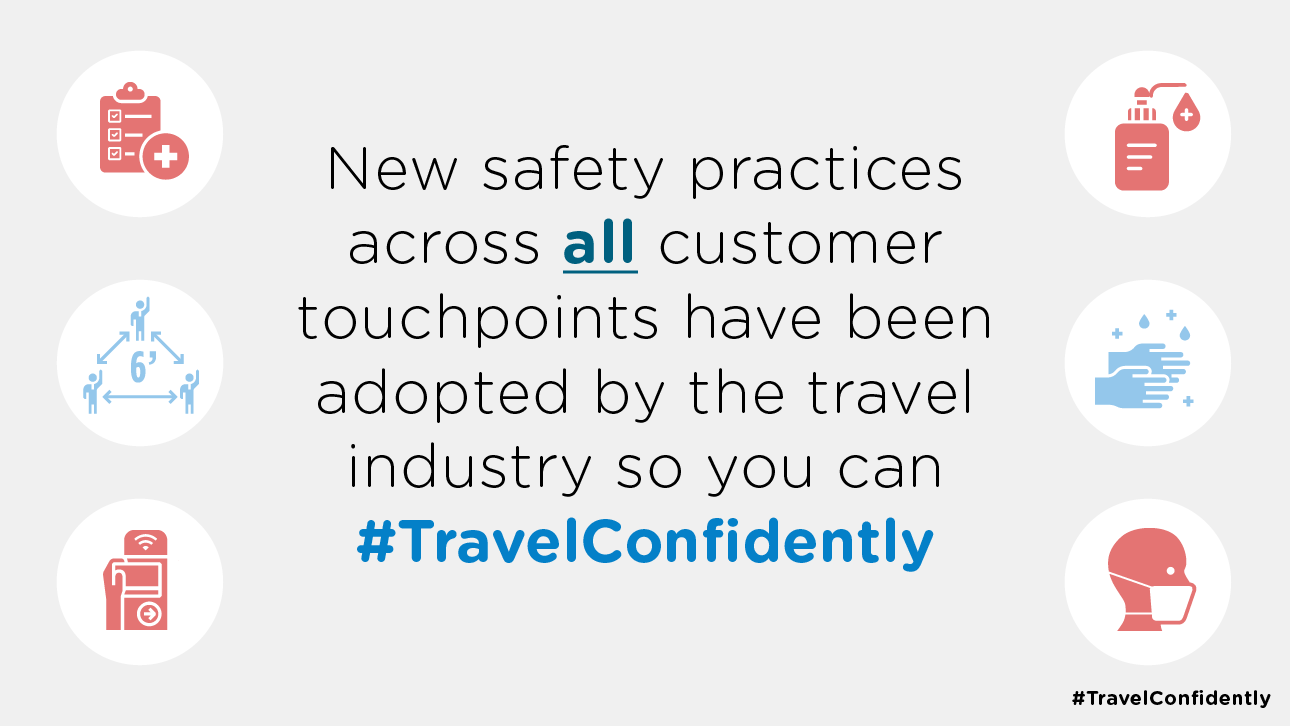 Hotels
Many popular hotel chains are changing the way they think about cleaning and sanitation. New procedures may include:
Extra disinfection of things like handles, remote controls, light switches, thermostats, etc.
Disinfecting wipes/hand sanitizer in common areas, rooms, and elevator banks
Daily multiple cleanings of pool, fitness and other common areas
Removing glassware from rooms
Masks, gloves and front desk partitions for staff
Common area furniture arranged for social distancing
COVID-19 Resource: Global Hotel Cleaning Standards Being Introduced
Restaurants
Restaurants have been some of the hardest-hit businesses during the pandemic. To help customers feel comfortable, they are also developing new standards of operation. Improvements may include:
Reduced customer capacity
Socially distanced seating
Paper/disposable menus
Digital ordering services
Frequent disinfecting of tabletops and common areas
Hand sanitizer available to all guests
Theme Parks and Attractions
Much like the rest of us, theme parks' and attractions' safety standards are changing and evolving daily.  As they begin welcoming visitors back for fun and thrills, they're taking steps to ease safety concerns. These may include:
Reduced visitor capacity
Temperature checks for staff
6 ft. spaces marked in ride queues
Hand sanitizer stations at entry gates and ride/attraction entry and exits
Frequent surface disinfecting
Masks and gloves for employees and guests
Andretti Indoor Karting & Games is a great example of an attraction following industry guidelines.
Motorcoaches
Many student groups travel by motorcoach so companies are stepping up to help keep students safe. They're following CDC health recommendations like:
Routine cleaning and disinfection of surfaces
Maintaining 6 feet between passengers when possible
Proper hand hygiene for drivers and passengers
Air Travel
One thing we know about the airline industry is that it adapts "on the fly!" When circumstances demand change, airlines respond with action. Right now, airlines and the TSA are working hard to reassure customers by refining safety standards. Accommodations may include:
Enhanced cleaning and disinfecting of the plane
Passenger temperature checks
Procedures to increase social distancing (middle seat empty, etc.)
Reducing direct contact with employees
Allowing up to 12 ounces of liquid hand sanitizer per passenger
Requiring passengers and employees to wear masks
How Coronavirus Will Forever Change Airlines and the Way We Fly
#KASAFE
When you are ready to get back out there, choose a student trip planner that makes safety #1!  As part of its commitment to safety, Kaleidoscope Adventures launched the #KASAFE campaign.  #KASAFE is a multi-level response to current travel challenges.  It includes steps like KAre Kits, KA approved suppliers, new programs, and a health care professional of your choosing who travels at no cost.  It's one way we are doing our part to help you #TravelConfidently!
Business as usual is a thing of the past. As the restrictions begin to loosen, we're going to have a few growing pains as we figure out our new "normal." Let's embrace the changing times and focus on the positives!  After all, progress is impossible without change.  When it's time for you, we'll be ready.  #Let'sMakePlans!
Why Kaleidoscope Adventures?
As a leader in the student travel industry for 25+ years, Kaleidoscope Adventures exceeds expectations for student and performance group travel.
We'll work with you to plan an exceptional travel experience and provide impeccable customer service from start to finish
Learn More
Related Articles